Zero2Go is a small and smart power supply add-on for Raspberry Pi. It supports all modern Raspberry Pi models.  The original 26-pin header Pi 1 A and B from 2012 is not supported.
PRODUCT DESCRIPTION
Zero2Go is a Raspberry Pi Zero sized (or pHAT shape) extension board that can work as wide input range power supply for Raspberry Pi. Zero2Go Omini is the second member in the Zero2Go family.
Zero2Go Omini supports all Raspberry Pi models that has the 40-pin GPIO header, including A+, B+, 2B, 3B, 3B+, 3A+, Zero, Zero W and 4B.
Zero2Go is compatible with the newly released Raspberry Pi 4. However you will need to manually upgrade your wiringPi to version 2.52, by running these two commands:
wget

https

:

/

/

project

-

downloads

.drogon

.net

/

wiringpi

-

latest

.deb

 

sudo

dpkg

-

i

wiringpi

-

latest

.deb
The version of wiringPi included in the OS (buster) is currently 2.50 and you have to upgrade it manually for now. Hopefully the new version will be included in official release in the future.
The main features of Zero2Go Omini include:
Three separated input channels (each accepts 3.5~28V DC).
Auto step-up or step-down to output 5V for powering Raspberry Pi.
Auto switch input channel (one with highest voltage takes the priority).
Gracefully turn on/off Raspberry Pi with single tap on the button.
Fully cuts power for Raspberry Pi and all its USB peripherals after shutdown.
Long hold the button to force power cut, when OS loses response.
Monitor the input voltage on each channel (via software).
Shutdown Raspberry Pi when input voltage below preset threshold.
Recover Raspberry Pi when input voltage exceed preset threshold.
Zero2Go has quite wide input range (3.5V~28V), so it is convenient to power your Raspberry Pi with power bank, Li-Po battery pack, solar panel, car battery or different kinds of power adapters etc. You can also configure it as a UPS (please read user manual for more details). Remarks: Zero2Go Omini doesn't charge the connected battery, and you may need external charging circuit like this one or this one for rechargeable battery.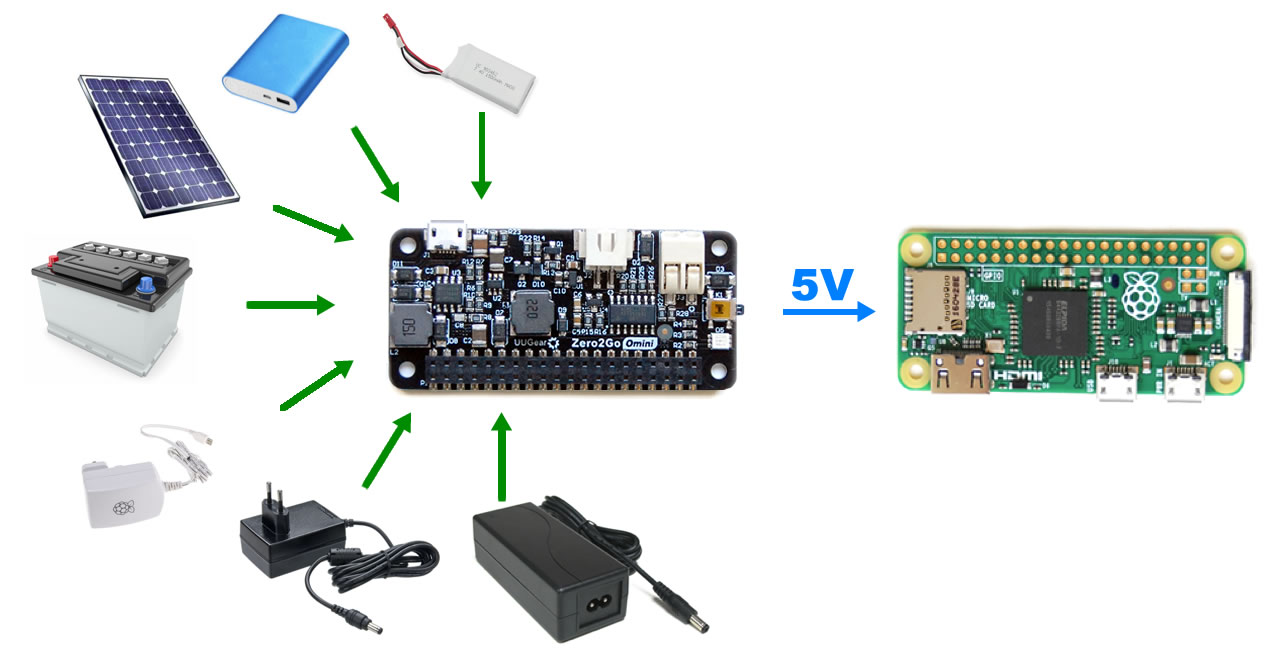 How does it work? Please see below the simplified diagram. It demonstrates the main functionalities of Zero2Go Omini and can help you to understand how it works. When Vin is lower than 5.5V, the step-up engine will be used; When Vin is 5.5V or higher, the step-down engine will be used instead.. Zero2Go can switch between step-up and step-down modes automatically.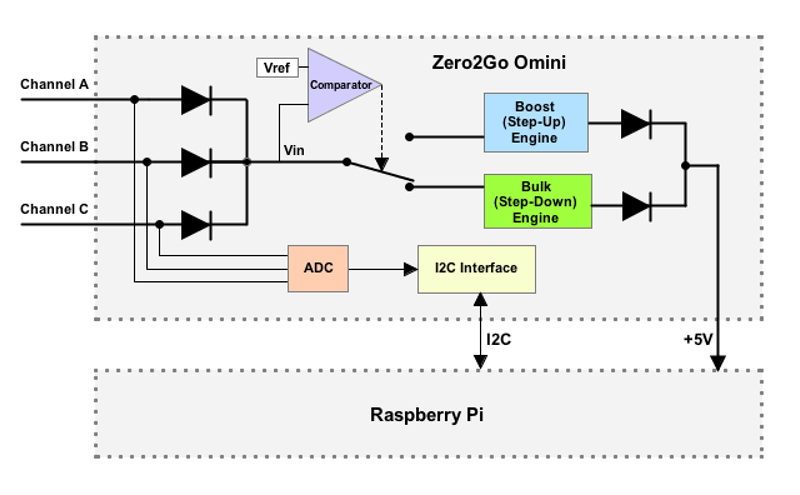 SOFTWARE INSTALLATION
To install Zero2Go's software, please run this command in your home directory:
pi@raspberrypi ~ $ wget http://www.uugear.com/repo/Zero2GoOmini/installZero2Go.sh
If your Raspberry Pi has internet connection, it will immediately download the script from our website, and you will then see the "installZero2Go.sh" script in your home directory. Then you just need to this script with with sudo:
pi@raspberrypi ~ $ sudo sh installZero2Go.sh
You will need to use sudo to run this script. This script will copy a file to "/etc/init.d/zero2go_daemon", and register it to run after the boot.
CONFLICTION WITH 1-WIRE INTERFACE
If you have 1-Wire interface enabled and didn't specify the GPIO pin for 1-Wire, it will use GPIO-4 and that conflict with Zero2Go Omini. Zero2Go Omini uses GPIO-4 to receive shutdown command, if GPIO-4 is also assigned to 1-Wire, Zero2Go's software will receive shutdown command unexpectedly. If your Raspberry Pi always automatically shutdown itself after installing Zero2Go's software, that most probably due to the confliction with 1-Wire interface.
When this happens, you most probably can not login your Raspberry Pi because it always shuts itself down before you get the chance to login. To solve this problem, you will need to take out the micro-SD card on your Raspberry Pi, and access its file system via a card reader. You need to edit the config.txt file in the "boot" volume to change the GPIO pin used by 1-Wire interface, or you can disable 1-Wire interface if you don't need it for now. You need to find something like "dtoverlay=w1-gpio" in the file.
If you want 1-Wire to use GPIO-18, just change "dtoverlay=w1-gpio" to:
dtoverlay

=

w1

-

gpio

,

gpiopin

=

18
If you want to disable 1-Wire interface, just comment it out:
Save the file and eject your micro SD card, and put it back to your Raspberry Pi. Now your Raspberry Pi should be able to boot normally.
PACKAGE CONTENT
Each package of Zero2Go contains:
Zero2Go board x 1
4mm plastic spacer x 4
M2.5 x 10mm plastic screws x 4
M2.5 plastic nuts x 4
Remarks: Raspberry Pi and 40-pin header are not included in the package.
SPECIFICATIONS
Dimension:
65mm x 30mm x 7.7mm
Weight
12g (net weight)
Mainly

 

Used Chips
MCU: ATtiny841 (datasheet)
DC-DC Bulk: MP4462 (datasheet)
DC-DC Boost: SDB628 (datasheet)
LED Indicator
Three-color LED (red, green and blue)
Interface
Micro USB female connector for input channel A.
XH2.54-2P connector for input channel B.
Universal wire connector for input channel C.
20×2 header (h=2mm) for connecting Raspberry Pi.
Input
Three separated channels (A, B, and C)
All accept DC 3.5V~28V
(5.5~7.0V is not recommended as the DC-DC bulk converter needs more dropout to work well)
Output
Output 5V (±5%), maximum 2A
Efficiency
Up to 87% @ Step-Up mode
Up to 82% @ Step-Down mode
Standby Current
~0.13mA @ Vin=3.5V
~0.36mA @ Vin=12V
~0.87mA @ Vin=28V
Operating Temperature
-30℃~80℃ (-22°F~176°F)
Storage Temperature
-40℃~85℃ (-40°F~185°F)
Humidity
0~80%RH, no condensing
USER MANUAL
More details about Zero2Go Omini can be found in its user manual: http://www.uugear.com/doc/Zero2Go_Omini_UserManual.pdf